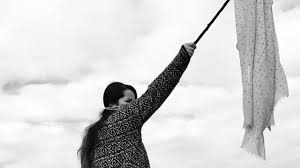 Abstract White Wednesday and My Stealthy Movement
Initiated on May 27, 2017, the "White Wednesday Campaign" encouraged women and men to wear white scarves or tie them round their necks and post their photos on social media platforms as a show of protest against the compulsory hijab in Iran.
The color white was deliberately chosen by the founder, Masih Alinejad, as a symbol of peace as opposed to "the black color of force."
Alinejad, a female journalist in exile, also initiated "My Stealthy Freedom," an online movement inviting women in Iran to post pictures of themselves without headscarves in public places.
Some connect the latest protests with the recent campaigns against the compulsory hijab, but gender expert Nayereh Tohidi from the California State University views these sporadic peaceful protests as part of the history of the women's rights movement in Iran.
These young women have reached a level of maturity in social development and are now exerting their identity. Therefore, for them the issue of the hijab becomes more existential, Tohidi told DW.
But not everyone shares the view that the issue of mandatory hijab is the most important problem facing Iranian women. Anthropologist and researcher Kameel Ahmady believes that the demand to do away with the compulsory hijab is not applicable to all women in Iran.
The hijab is not an issue for women in smaller cities and rural areas and the concern is limited to modern women in larger cities,Ahmady told DW.
White Marriage (Cohabitations) in Iran
Read more: White Wednesday' and 'My Stealthy Movement